ID HELSINKI
9 - 10 September 2019, Event Center Telakka, Helsinki, Finland
Trade Show: contract and commercial interiors
ID Helsinki is an informative, effective and inspirational trade show about public spaces, offices and workspaces. We focus on commercial design and contract interiors. ID Helsinki is the leading trade show in this sector in Finland. The event has been arranged for four times before.
ID Helsinki is a combination of exhibition stands, two day's programme and the Afternoon Party. The speeches give information, thoughts and inspiration to those working within contract interiors industry as well as to their customers. In the first afternoon we have the popular Afternoon Party, offering some food, drinks and a DJ. Free entry for everyone working within the industry.
The official partners of ID Helsinki 2019:
Welcome to ID Helsinki 2019!
Opening hours and location
Opening hours
Monday 9 September 2019 at 9:00 - 18:00
Tuesday 10 September 2018 at 9:00 - 19:00.

Event Center Telakka. Address: Henry Fordin katu 6, 00180 Helsinki (Hernesaari area).
Visitor registration
Entry: ID Helsinki is a trade show. Free entry. Registration is acquired.
For the visitor registration, you don't need any specific invitation or code. Just register beforehand at or at the entrance.

The programme and Afternoon Party is free, included in the same registration.
EXHIBITORS
The exhibitors represent products and services for commercial design and contract interiors. The main themes in ID Helsinki are public spaces, offices and workspaces. Many exhibitors are service providers, representing even dozens of quality brands for interior design.
Shuttle Bus
The free shuttle bus is operating during both event days.
The bus leaves from the city centre, the bus stop in front of the Kiasma Museum.

At the Event Center Telakka, the bus leaves from the front door of the event.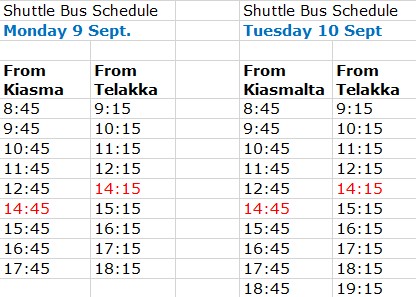 Programme
The official programme of ID Helsinki has been released:
Is this for me?
Are you working with interior design, architecture, workspace design, service design, hospitality industry, real estate management or related media? Are you responsible for these themes at your company? Is your company or client planning projects? Are you this client, searching for information, ideas and contacts for your project? Also students in this industry are welcome to ID Helsinki.
Organizer and contacts
Wola Event Management Ltd
Heidi Sinisalo, +358 44 972 6620, heidi@wola.fi
Welcome!